10x10 High Peak Tent & Concessions Package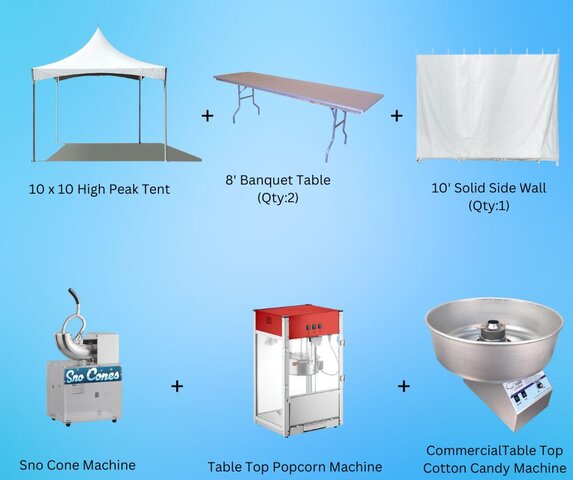 Description
Introducing our 10x10 High Peak Tent & Concessions Package, the perfect solution for all your outdoor event needs. This package combines the convenience of a spacious tent with a range of delicious concessions to keep your guests entertained and satisfied.
Our 10x10 High Peak Tent provides ample space for your event, whether it's a backyard party, corporate gathering, or a community festival. With its high peak design, this tent not only offers a stunning visual appeal but also ensures maximum airflow and protection from the elements. The sturdy construction and durable materials guarantee a reliable shelter that will withstand any weather conditions.
But that's not all - our package also includes a variety of concessions to add a delightful touch to your event. Treat your guests to mouthwatering popcorn, freshly spun cotton candy, and refreshing snow cones. Our concession machines are of the highest quality, ensuring that your treats are prepared quickly and efficiently. The aroma of buttery popcorn, the sweet taste of cotton candy, and the icy goodness of snow cones will create an unforgettable experience for your guests.
Setting up the 10x10 High Peak Tent & Concessions Package is a breeze. Our team will take care of the installation and ensure that everything is perfectly set up before your event. We understand the importance of a seamless and hassle-free experience, allowing you to focus on other aspects of your event planning.
Whether you are hosting a small gathering or a large-scale event, our 10x10 High Peak Tent & Concessions Package is the ideal choice. Create a memorable and enjoyable experience for your guests with our top-notch tent and mouthwatering concessions. Contact us today to book this package and make your event a resounding success.