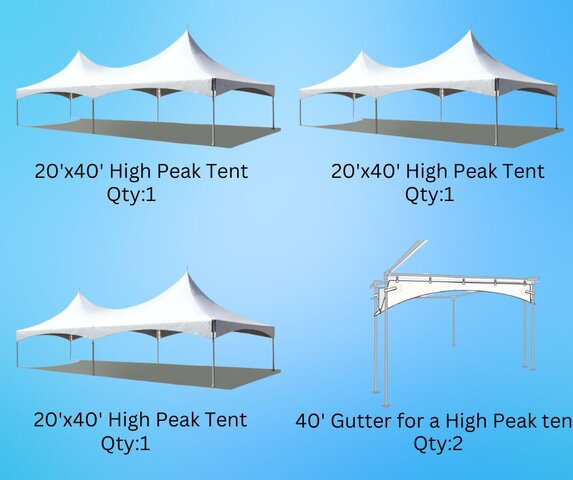 Description
Introducing our impressive 40' x 60' High Peak Tent, the ultimate solution for your outdoor event needs. This tent is designed to combine elegance and functionality, providing a stunning and practical space for any occasion.
Crafted with the highest quality materials, our High Peak Tent offers exceptional durability and weather resistance. The sturdy frame is constructed from heavy-duty aluminum, ensuring stability and longevity, even in challenging conditions. The tent's high peak design not only adds a touch of elegance but also allows for excellent water runoff, keeping your event dry and comfortable.
With a spacious interior of 2,400 square feet, this tent can comfortably accommodate a large number of guests. Whether you're hosting a wedding, corporate event, trade show, or festival, this tent provides ample space for seating, dining, dancing, and more. The open layout allows for flexible customization, enabling you to create the perfect atmosphere for your event.
Setting up the 40' x 60' High Peak Tent is a breeze, thanks to its user-friendly design. The tent comes with all the necessary hardware and detailed instructions, making installation quick and hassle-free. Additionally, the tent can be easily disassembled and transported, making it ideal for both one-time events and long-term use.
To enhance the ambiance, our High Peak Tent is compatible with a range of accessories. You can add sidewalls for privacy and protection from the elements, or opt for Cathedral sidewalls to showcase the surrounding scenery. Lighting options, such as string lights, can be incorporated to create a magical atmosphere, while heating systems can ensure the comfort of your guests regardless of the weather.
Safety is our top priority, and our High Peak Tent is engineered to meet the highest industry standards. The tent is fire-resistant and designed to withstand winds, providing you with peace of mind throughout your event.
Rent our 40' x 60' High Peak Tent and elevate your outdoor event to new heights. With its exceptional quality, versatility, and stunning design, this tent is the perfect choice for creating unforgettable experiences.