Adult Day Slip N' Slide/ Pong Party Package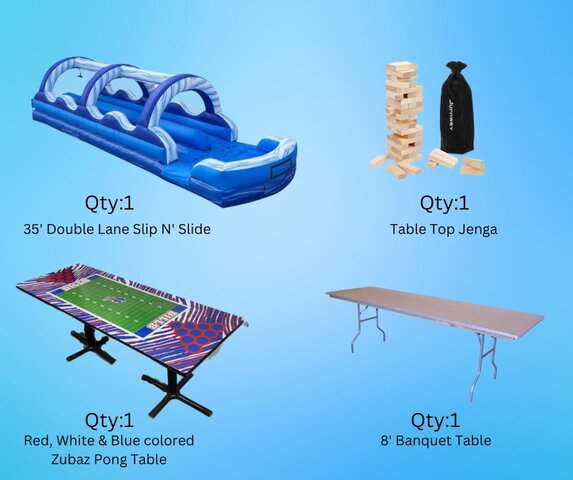 Description
Looking for a fun and exciting way to spice up your next adult gathering? Look no further than our Adult Day Slip N' Slide/ Beer Pong Party Package! This package includes everything you need to create an unforgettable party experience that your guests will be talking about for weeks to come.First up is our 35' long Blue & white inflatable slip N slide. This is the perfect way to cool off on a hot summer day and have a blast with your friends. Whether you're racing to the finish or just sliding for fun, this slip N slide is sure to be a hit.
Next, we have an 8 foot banquet table that's perfect for flip cup. This classic party game is a favorite among adults, and our table provides the perfect surface for flipping your cups and showing off your skills.
If you're looking for something a little more challenging, our table top jenga game is just the thing. This classic game of skill and strategy is a great way to get everyone involved and keep the party going all night long.
And finally, we have a red white and blue colored zubaz beer pong table. This is the perfect addition to any party, and our table is designed to provide a stable and durable surface for your beer pong games.So if you're looking for a fun and exciting way to take your party to the next level, our Adult Day Slip N' Slide/ Beer Pong Party Package is the perfect choice. Order now and get ready to have the time of your life!
DELIVERY AND SET UP:

We deliver to Buffalo NY and surrounding areas (delivery fees calculated at checkout).
We do set ups on the Wednesday, Thursday, or Friday before your event and does not count toward your event time.
We do our take downs and pick ups on Monday, Tuesday, or Wednesday after your event ends which also does not count toward your rental time.
Can be set up on grass or concrete. Please be specific as we secure tents differently based on the surface the are getting set up on.

RAIN DELAY OR WEATHER DELAY:

You can reschedule your rental due to rain at no extra cost if 48-hour notice BEFORE delivery is given.

SANITATION:

All our rentals are cleaned and sanitized before and after use!

WHAT'S INCLUDED BY US:

(1) 8' Banquet table
(1) Table Top Jenga
(1) 35' Double Lane Slip N' Slide
(1) Red, White & Blue colored Zubaz Pong Table

WHAT YOU WILL NEED TO PROVIDE/HAVE:

Plastic cups for both beer pong and/or flip cup
Ping pong balls for beer pong
Contact Us directly for any questions by calling 716-863-9879