Bleacher Reacher Buffalo Freddy T-Shirt Cannon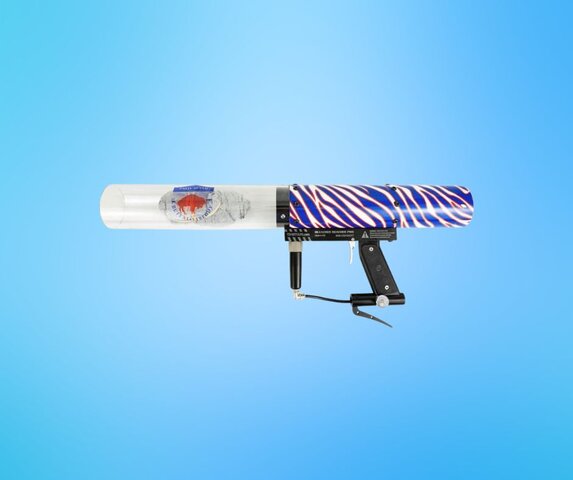 Description
Introducing the Bleacher Reacher tshirt gun - the ultimate way to get your message out to a large crowd! These tshirt guns are perfect for sporting events, concerts, festivals, and other large gatherings where you want to make an impact.
Our tshirt guns are easy to operate and can shoot t-shirts, hats, and other small items up to 100 feet into the air. The lightweight design and ergonomic handle make it comfortable to use for long periods of time.
At Buffalo Freddy Party Rentals, we offer a variety of tshirt gun rentals to suit your needs. Our team will work with you to determine the best tshirt gun for your event and provide setup and operation instructions.
Don't wait, contact us today to reserve your Bleacher Reacher tshirt gun and make your next event a hit!
-Comes with 1 Co2 tank. Each Air Tank Rentals shoots 50 T-shirts, or 250 stress balls, or 50 shots of confetti.
-Variable range of (10-250 ft)
-T-Shirts are not included. Please contact us to incquire about T-Shirts or additional Co2 tanks.
At just under 7lbs, it shoots to the top deck of most arenas and stadiums. Variable range of (10-250 ft), built-in regulator, pneumatic trigger, real-time velocity control gauge and large bazooka style lexan barrel.
Don't forget to go to our add on pages!
Cotton Candy Machine Snow Cone Machine Inflatable Modular Panels Food Service & Concession Accessories Tent Side Walls & Lighting CockTail Tables 10x10 Tents T-Shirt Cannons Giant Lawn Games Grills & Smokers Plastic Ball Pit Balls Inflatable Games Mega Phones & More!
​​​​​​​