Dunk Tank & Baseball Air Frame Inflatable Package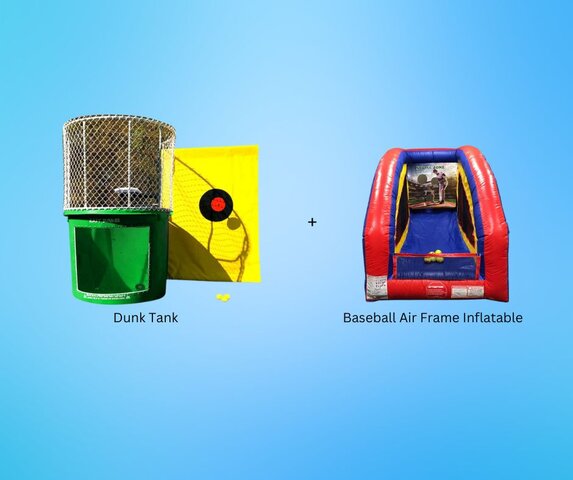 Description
Introducing our exciting Dunk Tank & Baseball Air Frame Inflatable Package! This incredible package combines two of the most popular games to create an unforgettable experience for your guests.The centerpiece of this package is our Dunk Tank, a classic favorite that never fails to entertain. Watch as participants take turns throwing balls at the target, aiming to hit the bullseye and send their friends or colleagues plunging into the water below. With its sturdy construction and safety features, our Dunk Tank ensures a fun and safe experience for everyone involved. But the fun doesn't stop there! Our Baseball Air Frame Inflatable adds an extra element of excitement to your event.
Both the Dunk Tank and Baseball Air Frame Inflatable are made from high-quality materials, ensuring their durability and longevity. They are also easy to set up and take down, making them perfect for any event, whether it's a backyard party, corporate gathering, or school carnival.
Not only will this package provide endless entertainment for your guests, but it also offers a great opportunity for team building, friendly competition, and laughter-filled memories. Whether you're hosting a fundraiser, birthday party, or community event, the Dunk Tank & Baseball Air Frame Inflatable Package is sure to be a hit.
So why wait? Bring the excitement of these two thrilling games to your next event and create an experience that will have everyone talking for years to come. Don't miss out on this incredible package – book now and get ready for a splashingly good time!
DELIVERY AND SET UP:

We deliver to Buffalo NY and surrounding areas (delivery fees calculated at checkout).
Can be set up on grass or concrete please be specific as we secure inflatables differently based on surface.
Overnights Can Be Added For $50 (Pickup Next Day sometime after 8am)
Additional Full Days Can Be Added For $100 per day

RAIN DELAY OR WEATHER DELAY

You can reschedule your rental due to rain at no extra cost if 24-hour notice before delivery is given.

OCCUPANCY:

1 Person in the Dunk Tank at a time

SANITATION:

All rentals are cleaned and sanitized before and after each use!

WHAT'S INCLUDED BY US:

Set Up & Take Down
1 Extension Cord
Baseball Air Frame Inflatable with balls
Dunk Tank
4 Hours of Rental Use

WHAT YOU WILL NEED TO PROVIDE/HAVE ACCESS TO:

Enough space for us to setup your rental. (Size of the inflatable is listed below)
1 dedicated electric outlet within 50 feet of setup area per blower
Water spicket and hose withing 50' of the Dunk Tank
Contact Us for any questions online or by calling 716-437-3339