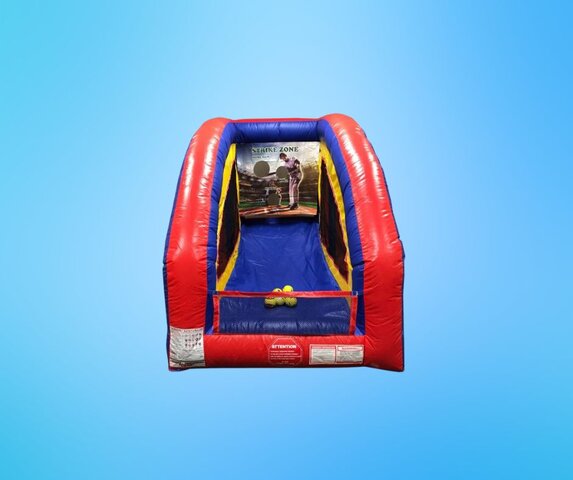 Description
Introducing the Baseball Air Frame Game - the ultimate addition to your backyard or event! This game is perfect for baseball enthusiasts of all ages and skill levels. The Air Frame Game is designed to be played with a soft foam ball, making it safe for players of all ages.
The game is easy to set up and can be played indoors or outdoors. The Air Frame Game includes a durable frame made of heavy-duty PVC material, as well as a target net that is designed to catch the balls. The net is easily adjustable to accommodate players of all skill levels.
The Baseball Air Frame Game is perfect for backyard barbecues, family gatherings, or even for use at events such as carnivals or fairs. It provides hours of entertainment and is sure to be a hit with everyone who plays.
So why wait? Get your Baseball Air Frame Game today and start enjoying the fun and excitement of baseball in a safe and entertaining way!
DELIVERY AND SET UP:

We deliver to Buffalo NY and surrounding areas (delivery fees calculated at checkout).
Can be set up on grass or concrete please be specific as we secure inflatables differently based on surface.
Overnights Can Be Added For $50 (Pickup Next Day sometime after 8am)
Additional Full Days Can Be Added For $100 per day

RAIN DELAY OR WEATHER DELAY

You can reschedule your rental due to rain at no extra cost if 24-hour notice before delivery is given.

SANITATION:

All rentals are cleaned and sanitized before and after each use!

WHAT'S INCLUDED BY US:

Set Up & Take Down
1 Extension Cord & Blower
Baseball Air Frame Game
5-6 Foam Balls
4 Hours of Rental Use

WHAT YOU WILL NEED TO PROVIDE/HAVE ACCESS TO:

Enough space for us to setup your rental. (Size of the inflatable is listed below)
1 dedicated electric outlet within 50 feet of setup area per blower
Contact Us for any questions online or by calling 716-437-3339