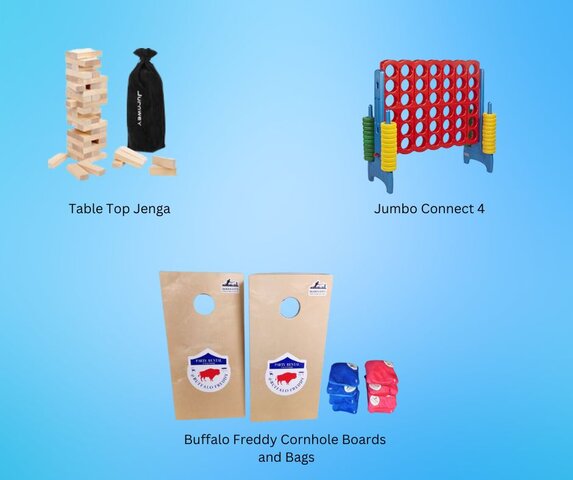 Description
Looking for a fun way to liven up your next outdoor gathering? Look no further than our Lawn Games Package! This package includes three classic games that are perfect for all ages and skill levels: cornhole, jumbo connect 4, and table top jenga.
First up is cornhole, a game that has been a staple at backyard barbecues for years. Players take turns tossing bean bags at a raised platform with a hole in the center, scoring points for landing on the platform or in the hole. Our cornhole set is made from high-quality materials and is built to last, ensuring that you'll be able to enjoy this classic game for years to come.
Next, we have jumbo connect 4, a larger-than-life version of the classic game that's perfect for outdoor play. Players take turns dropping oversized discs into the frame, trying to connect four in a row before their opponent does. With its colorful design and sturdy construction, our jumbo connect 4 set is sure to be a hit with kids and adults alike.
Finally, we have table top jenga, a game that requires a steady hand and nerves of steel. Players take turns removing wooden blocks from a tower and stacking them on top, trying not to topple the tower in the process. Our table top jenga set is made from high-quality wood and is the perfect size for playing on a picnic table or other outdoor surface.
Whether you're hosting a backyard barbecue, a family reunion, or just a casual get-together with friends, our Lawn Games Package is the perfect way to add some fun and excitement to your outdoor space. So why wait? Order yours today and start enjoying all the fun and excitement of these classic games!