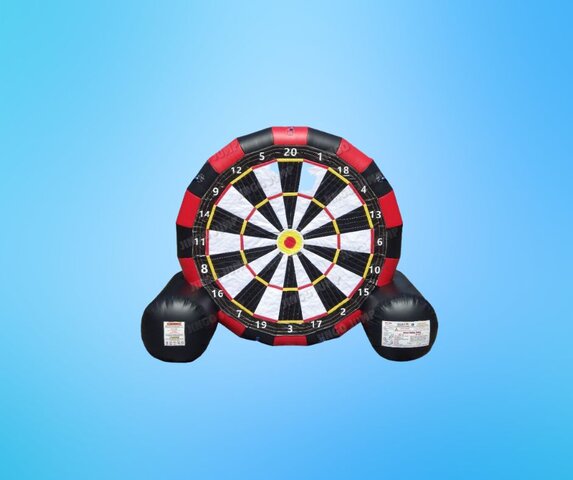 Description
Soccer Darts is the perfect combination of soccer and darts, providing a fun and exciting activity for players of all ages and skill levels. The game consists of a large inflatable dartboard with various scoring zones, and players use a ball to kick and score points.
Soccer Darts is a great way to improve your soccer skills, as it requires precise aiming and kicking accuracy. It's also a fantastic way to get some exercise and have fun with friends and family. Whether you're hosting a party, planning a team-building activity, or just looking for a fun way to spend an afternoon, Soccer Darts is sure to provide hours of entertainment.
The inflatable dartboard is easy to set up and can be used indoors or outdoors, making it a versatile addition to any event. It's also made from high-quality materials, ensuring that it will last for many games to come. So why not try Soccer Darts today and see why it's quickly becoming one of the most popular games around!
DELIVERY AND SET UP:

We deliver to Buffalo NY and surrounding areas (delivery fees calculated at checkout).
Can be set up on grass or concrete please be specific as we secure inflatables differently based on surface.
Overnights Can Be Added For $50 (Pickup Next Day sometime after 8am)
Additional Full Days Can Be Added For $100 per day

RAIN DELAY OR WEATHER DELAY

You can reschedule your rental due to rain at no extra cost if 24-hour notice before delivery is given.

OCCUPANCY:

1 Person can play with the Soccer Darts at a time

SANITATION:

All rentals are cleaned and sanitized before and after each use!

WHAT'S INCLUDED BY US:

Set Up & Take Down
1 Extension Cord & Blower
Soccer Dart Inflatable
(2) velcro balls
4 Hours of Rental Use

WHAT YOU WILL NEED TO PROVIDE/HAVE ACCESS TO:

Enough space for us to setup your rental. (Size of the Inflatable is listed below)
1 dedicated electric outlet within 50 feet of setup area per blower
Contact Us for any questions online or by calling 716-437-3339

Dimensions
7′ L x 13′ W x 10′ H