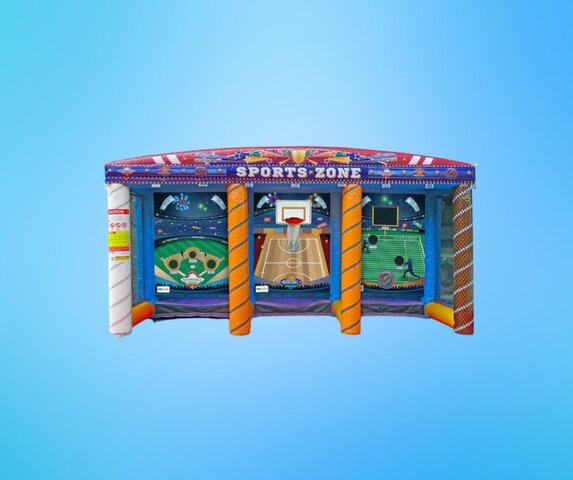 Description
An inflatable Sports Zone 3-in-1 is an exciting and versatile entertainment unit that combines three popular sports games into one fun-filled activity. This inflatable attraction is designed for all ages and is perfect for sports enthusiasts and anyone who loves to play games and have fun.
The Sports Zone features a spacious and colorful inflatable structure with three separate play areas, each designed to accommodate a different sport. The first play area is a basketball hoop, where players can shoot hoops and challenge their friends to a game of one-on-one or a friendly competition.
The second play area is a football target toss, where players can test their throwing accuracy and aim for different targets to score points. The targets are marked with different point values, making it a challenging and exciting game for players of all skill levels.
The third play area is a baseball throwing cage, where players can practice their pitching skills and aim for a variety of targets. The throwing cage is designed to provide a safe and secure environment for players to practice their throwing and improve their hand-eye coordination.
The Sports Zone is made from durable and high-quality materials, making it suitable for both indoor and outdoor use. It is easy to set up and take down, and can be inflated in just a few minutes using a standard blower. This inflatable attraction is perfect for sports-themed parties, events, and community gatherings, and is sure to be a hit with kids and adults alike.
DELIVERY AND SET UP:

We deliver to Buffalo NY and surrounding areas (delivery fees calculated at checkout).
Can be set up on grass or concrete please be specific as we secure inflatables differently based on surface.
Overnights Can Be Added For $50 (Pickup Next Day sometime after 8am)
Additional Full Days Can Be Added For $100 per day

RAIN DELAY OR WEATHER DELAY

You can reschedule your rental due to rain at no extra cost if 24-hour notice before delivery is given.

SANITATION:

All rentals are cleaned and sanitized before and after each use!

WHAT'S INCLUDED BY US:

Set Up & Take Down
1 Extension Cord & Blower
Sports Zone 3 in 1 Inflatable Game
5-6 Foam Balls for the baseball and football game (2-3 for each game)
2-3 mini basketballs for the basketball game
4 Hours of Rental Use

WHAT YOU WILL NEED TO PROVIDE/HAVE ACCESS TO:

Enough space for us to setup your rental. (Size of the inflatable is listed below)
1 dedicated electric outlet within 50 feet of setup area per blower
Contact Us for any questions online or by calling 716-437-3339
Dimensions:
5' Long x 19' Wide x 9' Height